HAIRCARE
Get The Look – Sexy Waves
24 January 2018
This Valentine's Day, get beautiful sexy waves with our easy tips!
Whatever your hair type, it's never been easier to get gorgeous sexy waves, and be date night ready. Shop women's haircare online at allbeauty and shop all Valentine's Day here.
Sexy Waves – Preparation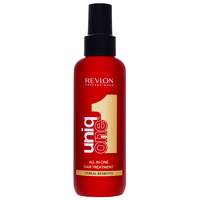 Preparation is 90% of any 'curl look' so get your groundwork in and the rest will follow. Skip the heavy treatments this week! Curls stay in best on hair that's not weighed down, so we recommend using Redken Clean Maniac for perfectly clean, primed hair. If you have fine hair, apply a volumiser to the roots (remember waves add volume of their own, so no need to add it to the lengths). You'll probably use heat along the way, so a heat protector is vital, and if you find it hard to hold curl, then apply a product to wet hair (after heat protector) to hold everything in place. Seems a lot? Try this genius product from Uniq One that does it all!
How To Get Sexy Waves – Hot Or Cold?
Now you're ready to start, decide whether you want to use hot tools or a cold method to create your waves. Hot tools give you more control and a groomed finish. Cold methods take longer (usually overnight) but look more 'un-done'. We'll focus on hot tools for this post, but for super-easy ways to get heatless curls, see our blog post here (with video guides!)
For a glamorous 'done' look like this one, you'll want to use curling irons or rollers after you blow-dry. Apply your preparation as above, and make sure you use a curl-setting product before you style, such as TIGI Catwalk Strong Hold Mousse. Be sure to let the hair cool completely before touching, and for extra hold, clip curls in place while they cool. Finish with a spritz of hairspray with added shine to hold the look – for really great hold, try Schwarzkopf Osis+ Session Extreme Hold.
An easy to way to get a more 'un-done' version of this look, from office to date, is to roll the hair while damp into a chignon (like this or even easier like this), then shake it loose for the evening.
Putting curls into a bob gives you instant wow! This Emma-Stone inspired look is gorgeous and is best achieved using curling irons to get the exact size of curl that you want. For an easy method on shorter hair, twist hair into pin curls and grip to the head with bobby pins. Then clamp each 'curl' with the straightening irons for a count of 5 and allow to cool completely before loosening. Shake out the curls with your fingers for a loose look. Be sure to set your straightening irons to a high heat setting before you start, as they need serious heat to lock the cuticle in place.
For faster curl-while-you-style, Click N Curl is a great solution.
More Products We Love To Get Sexy Waves